Why Do You Think Press Release is The Most Important Marketing Strategy – Dot Com Infoway
Press releases have been around for a very long time, they were originally used solely as a means to make an announcement about news worthy information, which was typically handled through members of the PR staff or a public relations firm by using various media outlets. But now that there are so many online new sites available, such as Google News and Yahoo! News and they both obtain such a large amount of press release-based content. The RSS feature makes it easier to syndicate newsworthy information. Also, press releases can be used online to effectively communicate with consumers. So basically a press release is a primary consumer communication tool which is used very aggressively through digital media platforms.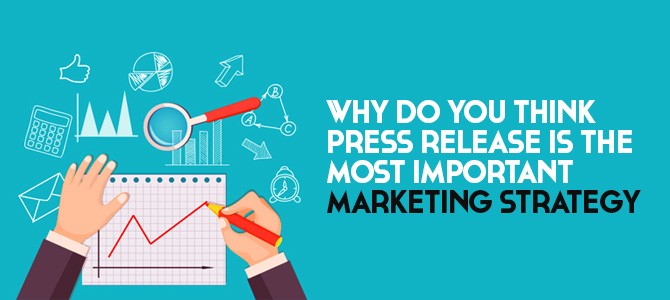 The Impact of One Single Press Release
Press releases are not only a great tool for distributing content throughout various media platforms, but they can also be syndicated in a very easy and convenient manner, also creating an excellent opportunity to attract incoming links in the process.
Because some of the press releases are optimized when distributed they have the opportunity to gain different unique Domain name links from one single press release.
Being plugged into media wire services such as Business Wire, PR Web, Market Wire and PRNewswire, the distribution process is a lot more simplified as it relates to getting newsworthy content to the most popular News based search engines.
Why Press Releases Are the Most Important Marketing Strategy
Press releases are one of the most important internet marketing strategies[1] today because of its reach. Studies indicate that half of all of the Internet users on a worldwide basis visit online new sites each month. As a result, many Press Releases that are channeled through major online sites such as CNN, Yahoo News, the New York Times, MSNBC receive maximum exposure.
In addition to the large amount of exposure that one simple press release can't obtain, there are other additional strategies and tips that can be used to further expose your press release as well. Those include optimizing your press release by providing a balanced amount of keywords and phrases, the use News worthy information that is worth announcing, providing the reader with a reason to click through, the creation of an impressive relevant landing page, the creation of a blog post version of your news, plus the creation of a list of up-to-date media contacts. These are just a few of the ways that a press release can serve multiple purposes with the use of one document.
If you haven't used press releases before, now would be a great time. And with the power of the Internet and online digital marketing, you can maximize your exposure and your marketing efforts by engaging with both the media and experts within your industry.
Source URL: Read More
The public content above was dynamically discovered – by graded relevancy to this site's keyword domain name. Such discovery was by systematic attempts to filter for "Creative Commons" re-use licensing and/or by Press Release distributions. "Source URL" states the content's owner and/or publisher. When possible, this site references the content above to generate its value-add, the dynamic sentimental analysis below, which allows us to research global sentiments across a multitude of topics related to this site's specific keyword domain name. Additionally, when possible, this site references the content above to provide on-demand (multilingual) translations and/or to power its "Read Article to Me" feature, which reads the content aloud to visitors. Where applicable, this site also auto-generates a "References" section, which appends the content above by listing all mentioned links. Views expressed in the content above are solely those of the author(s). We do not endorse, offer to sell, promote, recommend, or, otherwise, make any statement about the content above. We reference the content above for your "reading" entertainment purposes only. Review "DMCA & Terms", at the bottom of this site, for terms of your access and use as well as for applicable DMCA take-down request.
Acquire this Domain
You can acquire this site's domain name! We have nurtured its online marketing value by systematically curating this site by the domain's relevant keywords. Explore our content network – you can advertise on each or rent vs. buy the domain. Buy@TLDtraders.com | Skype: TLDtraders | +1 (475) BUY-NAME (289 – 6263). Thousands search by this site's exact keyword domain name! Most are sent here because search engines often love the keyword. This domain can be your 24/7 lead generator! If you own it, you could capture a large amount of online traffic for your niche. Stop wasting money on ads. Instead, buy this domain to gain a long-term marketing asset. If you can't afford to buy then you can rent the domain.
About Us
We are Internet Investors, Developers, and Franchisers – operating a content network of several thousand sites while federating 100+ eCommerce and SaaS startups. With our proprietary "inverted incubation" model, we leverage a portfolio of $100M in valued domains to impact online trends, traffic, and transactions. We use robotic process automation, machine learning, and other proprietary approaches to power our content network. Contact us to learn how we can help you with your online marketing and/or site maintenance.