Distributing Your Online Marketing Press Release – dummies
Distributing Your Online Marketing Press Release
Because press releases are marketing materials, you must consider your target market when building a distribution plan. Depending on your topic and audience, a good distribution network might include both online and offline outlets, including
General-interest magazines

Journalists who write about your subject

Newspapers

Nontraditional media outlets (for example, text messaging)

Publications specific to a particular industry (sometimes called a vertical market)

Radio, cable, and broadcast TV

Social media news services

Web-only sites
If you already have a public relations or advertising agency, your contractors can help you with writing and distribution. Otherwise, you can decide whether you're looking for B2C or B2B outlets, or both, and whether you want local, regional, national, or international distribution. It all depends on how large a megaphone you want and how much you can afford.
Although you can distribute a release yourself, especially to local press, it's much easier to select an online distribution network that can target the industry sectors you want. To begin, research distribution networks for traditional press releases.
Rates, formatting, and other requirements vary widely by network, so select one that fits your budget as well as your needs. Ask whether you can add your own, existing list of journalists, trade industry publications, and websites that accept press releases. What? You don't have an existing list? Start one now.
Social news services for traditional press release distribution generally post stories, topics, or links to releases suggested by their members under appropriate topic categories. Not all allow you to nominate your own release, but you can always find a friend or colleague to post a recommendation for you. (Be sure to return the favor.)
Most of these sites rank stories by the number of people who Like them or who rate them highly by pressing the Thumbs Up button, for example. Their popularity then determines where the story will appear on a results page. (With luck, you have a lot of friends!)
In any case, many social news services help with your standing in general search engine results and offer additional opportunities for readers to share your story elsewhere.
Schedule your release based on its time dependence and when your target audience will be available to view it. Because many releases arrive in journalists' inboxes through Real Simple Syndication or e-mail, consider scheduling date-independent releases as you would a B2B newsletter: on Tuesdays or Wednesdays, either early in the morning or midday.
In addition to distributing your release all around the web, be sure to post it on your own site, blog, or social media pages (or all three).
The life span of your release might extend long after your initial distribution. Print outlets might publish your release anywhere from several days to several months after you distribute it. Be sure that its contact information will still be accurate! For more information about working with the press, check out the Internet Press Guild[5].
Insider Perks[6], shown in the following illustration uses press releases successfully to spread its message. In the figure, Insider Perks offers a full page of material for media outlets at Insider Perks Media[7], including logos, graphics, and videos as well as press releases and fact sheets.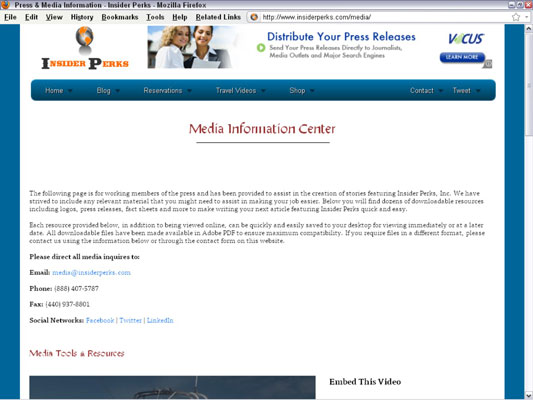 Credit: Courtesy of Insider Perks, Inc.
About the Book Author
Jan Zimmerman has provided web marketing, social media, and sitemanagement services to businesses of all types and sizes through her company, Watermelon Mountain Web Marketing, for more than a decade.
Source URL: Read More
The public content above was dynamically discovered – by graded relevancy to this site's keyword domain name. Such discovery was by systematic attempts to filter for "Creative Commons" re-use licensing and/or by Press Release distributions. "Source URL" states the content's owner and/or publisher. When possible, this site references the content above to generate its value-add, the dynamic sentimental analysis below, which allows us to research global sentiments across a multitude of topics related to this site's specific keyword domain name. Additionally, when possible, this site references the content above to provide on-demand (multilingual) translations and/or to power its "Read Article to Me" feature, which reads the content aloud to visitors. Where applicable, this site also auto-generates a "References" section, which appends the content above by listing all mentioned links. Views expressed in the content above are solely those of the author(s). We do not endorse, offer to sell, promote, recommend, or, otherwise, make any statement about the content above. We reference the content above for your "reading" entertainment purposes only. Review "DMCA & Terms", at the bottom of this site, for terms of your access and use as well as for applicable DMCA take-down request.
Acquire this Domain
You can acquire this site's domain name! We have nurtured its online marketing value by systematically curating this site by the domain's relevant keywords. Explore our content network – you can advertise on each or rent vs. buy the domain. Buy@TLDtraders.com | Skype: TLDtraders | +1 (475) BUY-NAME (289 – 6263). Thousands search by this site's exact keyword domain name! Most are sent here because search engines often love the keyword. This domain can be your 24/7 lead generator! If you own it, you could capture a large amount of online traffic for your niche. Stop wasting money on ads. Instead, buy this domain to gain a long-term marketing asset. If you can't afford to buy then you can rent the domain.
About Us
We are Internet Investors, Developers, and Franchisers – operating a content network of several thousand sites while federating 100+ eCommerce and SaaS startups. With our proprietary "inverted incubation" model, we leverage a portfolio of $100M in valued domains to impact online trends, traffic, and transactions. We use robotic process automation, machine learning, and other proprietary approaches to power our content network. Contact us to learn how we can help you with your online marketing and/or site maintenance.